Background Check on Yourself
Why is Conducting a Background Check on Yourself Beneficial?
Michigan residents often have the need to conduct background checks on themselves for any number of reasons.  This has become commonplace among many industries, and Michigan residents should know they have a trusted resource for Michigan Background Checks.
Michigan residents have any number of reasons why they may need a Michigan Background Check done on themselves.  Whether it be for employment purposes or a peace of mind, invest in obtaining all the available records pertaining to you.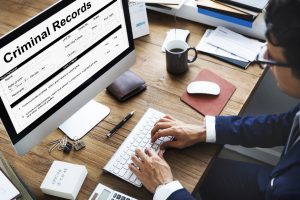 Here are a few examples of individuals who may need to conduct a background check:
Bar Exam Applicants – We come across many individuals who contact us looking to do a background check to learn what will be discovered. It's imperative to disclose true and accurate information otherwise the State of Michigan can deny your application. We understand that you may not remember all the litigation, liens/judgments, etc. you may have accrued over the years, therefore allow us to do the work for you.
Politicians – Similar to the bar exam, as a politician you may be interested in utilizing our services. Along the above-mentioned searches, you may also be interested in seeing what kind of information there is available on the web by conducting internet profiling. Don't be in the dark when it comes to your reputation.
Employees who need to provide a background check – Some companies may ask you to provide your own background check to them. In this instance, we can conduct the types of searches they require.
Habitual Offenders – Prior to applying for employment, you may want to be made aware of all the criminal cases that pertain to you. Whether you had a criminal record from 20 years ago or have an extensive record, we can provide you with a full criminal background report.
Professional License Applicants – Don't allow for anything in your background to prevent you from obtaining your professional license.
Regulated Industry Applicants – Teachers and Health Care professionals encompass such industries who have regulations as to what kind of background checks to conduct.
Immigration – Your immigration application will automatically be denied if they locate any criminal records to be associated to you. We suggest you conduct your own background check prior to theirs so you know what to expect.
If You Need A Background Check Done On Yourself, Trust The Michigan Background Check Experts. Call ASG Today!
Conducting a background check on yourself in Michigan may seem like a silly thing to do because who knows you better than yourself? In some cases, say, if you've got a lengthy criminal history that's hard to keep up with,  it may be hard to remember it all.  It is common for everyone to have a background check conducted at one point or another in their life.  In Michigan, it is routine for some companies to run a background check. Employers, renting and leasing agents, attorneys, and lenders may all seek information about your personal background with good reason.  Here at ASG, we offer the opportunity to create a professional background check on yourself that can be held up to the highest standards.  Conducting a background check on yourself before others allows you to see what information about yourself is out there—our services include a background check profile conducted by trained Michigan private investigators that includes all information we have located on you. Information collected can be customized to your needs and vary from:
Employment history
Criminal History
Civil Records
Credit History
Judgments
Driving Record
Education History
Address History
Social Security Number
Social Media Canvass
In situations where you are asked to provide a background check on yourself, you may feel overwhelmed with where to begin. You may find yourself digging through your past, trying to remember different addresses, court records, and your employment history.  In the case where you are asked to provide a background check on yourself, collecting this information individually could cost you hundreds of dollars and hours of your time.  Allowing us to create your tailored background check would save you time, money, and a headache. You will be provided with a detailed profile of your history that will allow you to see what information about you is visible and accessible. It will prepare you when applying for jobs, preparing to enter into lease agreements, or even before you have a BAR Character and Fitness exam. Knowing what information is out there is key to being able to create a formal response to any questions a company could ask you regarding your background check.
When conducting a background check on yourself at home, it is somewhat common for information to be inaccurate. You may find hits on your credit score to be false, incorrect address identifiers, or even a mix up in your driving record. Conducting a background check on yourself would allow you to revise your information, and correct information in the case of inaccuracy before it effects your future.
We pride ourselves in keeping your sensitive information confidential, as it falls under the Confidentiality Act. In Michigan, your personal information remains confidential, as It should also be noted that as a licensed professional investigation firm, we also cannot be "subpoenaed" or petitioned for this information either. Our staff is knowledgeable in privacy laws limiting the likelihood of liability issues when conducting a background check.
We understand the importance of such background checks and how they can affect your potential new employer or your personal life. Allow us to give you a peace of mind by providing you with a thorough, factual report of all the information there is available. Our Michigan investigators are trained in searching for and obtaining records at any level needed. We take pride in going above and beyond for our clients, and most importantly, giving them a complete and accurate background check that will save them time and money.
With offices in Clinton Township, Novi and Birmingham, we can handle cases throughout the Metro Detroit area. From Westland, Ann Arbor, Dearborn, Livonia, Troy, Sterling Heights and Warren even out to Grand Rapids and Lansing, we have you covered! Give us a call today to discuss your situation!