Infidelity Cases
Expert Infidelity Investigations in Western Wayne County
Conducted by a Licensed Michigan Private Investigators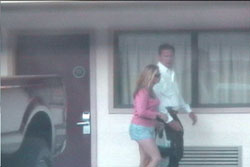 As a Michigan private investigative agency based in Metro Detroit, we provide investigations, including spousal surveillance and infidelity investigations in Western Wayne County and many of our private investigators live in cities like Livonia, Canton, Ann Arbor, Novi and Plymouth.
Below are some excerpts of cases we conducted for our clients in Canton, Livonia, Plymouth, Novi and Ann Arbor, Michigan. We hope that they give you a sense of the how we can you to get you proof of infidelity in Michigan..
Livonia, Michigan

Livonia MI Zip Codes (48150, 48151, 48152, 48153 and 48154)

Our client in this case is and sales representative living in Livonia who traveled often. His wife is a nurse who works evenings at a hospital in Detroit.

Our client was concerned when his wife began coming home later and later each night using the excuse that she was held over at the hospital. The romance had dried up between them at the same time and he feared that she was seeing one of the doctors.

We conducted the surveillance on a friday evening but our efforts to locate the wife at the hospital were unsucessful. We then tried this on two other evenings and had the same result.

We discussed the case with our client and he too was baffeled by her absence.

We then followed the wife to the hospital where she pulled up in the rear of the hospital and a man came out, kissed her and then got in her van and drove away as she entered the hospital. We followed the man back to a residence in Canton when he parked and went inside. He ran several errands and then before midnight drove from Canton back to the hospital and picked up the subject wife.

They drove back to his house in Canton and went inside for approximately two hours before she departed alone and drove home. One two additional instances, she followed the same pattern. Some additional investigation determined who the man was and revealed that he was a janitor at the hospital who lost his drivers license due to multiple drunk driving charges.

Plymouth, Michigan

Plymouth Zip Codes (48170)

In this case, our Plymouth private investigator was asked to help determine if the wife of our client was hiding money. The client had noticed that his wife seemed to have large amounts of cash with her all the time that did not come from the family bank account. He was also worried that she was not acting the same when they were together.

We established surveillance of her as she ran errands in and around Plymouth and went shopping for several hours, but nothing unusual. On our second day of surveillance again she traveled around Plymouth but never visited a bank or ATM machine. On our third day of surveillance the only thing she did was to visit her mother at a nursing home in Plymouth.

We then elected to wait until our client was leaving for business out of town. On this date we noted that after she dropped him off at the airport, she drove directly to the Greektown casino in Detroit. We located her within the casino and watched her for several hours as she played craps, sometimes winning and sometimes losing. At times she was betting over five hundred dollars at a time. After informing our client of her behavior, he had us investigate her a bit further and we learned that she had obtained a line of credit with a second bank and was using the money from that loan to gamble with.

Novi, Michigan

Novi Zip Codes (48374, 48375, 48376, 48377)

In a case in Novi, our client was a cmoputer consultant working from his home. His wife worked outside of the house and was gone for ten or more hours each day.

Although he would have appointments at client locations outside of Novi from time to time, he was believed to be in the Novi area and possibly seeing another woman.

We established surveillance at his residence and within minutes of her departure for work, a woman arrived at the house on foot. She knocked on the door and he let her in. Less than an hour later, she exited the house carrying her shoes in her left hand. We followed her from the house around the block to a neighboring residence where she went inside. After doing some additional digging, we were able to determine that she too is married and lives at this second address with her husband and children.

Our client was concerned about having enough evidence for court and asked that we try and get more video of him with this woman.

On our second day, we acquired the subject as he departed and drove to another residence in Novi where a female let him in the front door. After approximately three hours at that location, he departed accompained by this female. They drove to Farmington Michigan where they had lunch. Our investigator sat in the booth behind them at the restaurant and filmed them as they looked at a real estate guide and discussed what tyoe of house they would be buying. Interestingly, we did some follow up investigation of her and learned that he is known to be her boyfriend, but he is using a different name for his affair with her.

Ann Arbor, Michigan

Ann Arbor Zip Codes (48103, 48104, 48105, 48106, 48107, 48108, 48109 and 48113)

In Ann Arbor Michigan, our client contracted with us to investigate if her husband was having an affair. He worked as a computer systems trouble shooter and would leave the house periodically to work onsite at a client location, usually somewhere in Ann Arbor. It was her theory that he was seeing someone during those alledged work hours.

We did notice that he appeared to spend a great deal of time at one particular office building. We were able to follow him into this building and noted that he went into an entertainment company in the basement. We did some qucik checking and learned that this business runs a large number of adult web sites.

Our client had no knowledge of this company and indicated that she had never heard him mention them as being a client. In fact, he had informed her that was going to a completely different company on that day.

We contacted this entertainment company in Ann Arbor and inquired about a reference for the husbands computer consulting services. The male that took our call was confused and informed the investigator that the subject was not a consultant, he was one of the owners of the business.

Canton, Michigan

Canton Zip Codes (48187 and 48188)

In this case, our client was a physician as was her husband. She noted a change in the relationship and also noted that he was using the computer late at night on many ocassions.

His medical practice was located in Canton and surveillance while he was working failed to find him doing anything unusual.

Our client was certain that something was very wrong and that there must be another woman despite our findings. After discussing her options, she elected to have us conduct a computer forensic investigation of the family computer.

We were able to come to Canton and make a court room quality mirror image of the hard drive and take it back to our office. After reviewing the hard drive, we learned that the subject had hired an escort while out of town at a medical comference. According to the evidence we located, he had fallen in love with her. Further analysis revealed that he had been sending her money regularly and that they planned to meet again in a few weeks.