Cheating Spouse / Infidelity Investigation
Living with a Cheating Spouse/Infidelity in Michigan?
Suspecting that your spouse is cheating is awful. Getting confirmation of this gut feeling can be brutal. But it's better to know what's happening than live in the dark worrying about the possibility of your spouse cheating on you. Fear of infidelity can take over your life. If you think something is wrong, pursue it, but not on your own. Save yourself from excessive emotional suffering and pain with help from an infidelity investigation performed by Michigan infidelity private investigators at ASG.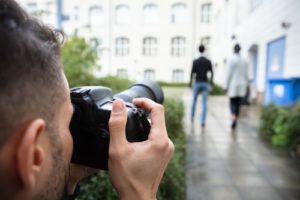 Discreet Infidelity Investigations are Best Done By Professionals. An Expert ASG Investigator is Waiting to Help You Get the Answers You Need. Call us Today at
(586) 522-4600

!

If you want to follow the hunch that you have a cheating spouse and get proof, an infidelity investigation is the route to go. One of the best things you can do for your peace of mind is to hire a Michigan private investigator who is experienced in cheating spouse cases. Through careful measures, the investigators at ASG you will get proof of whatever is (or isn't) going on, anywhere in Michigan, so you can make decisions now and for your future.

Infidelity investigation techniques can include:

Men cheat and women do, too, but men often exhibit habits that are indicative of infidelity. Some men even try to excuse their straying by claiming that they just need more sex, are insecure, or are biologically programmed to be non-monogamous. And, of course, there are the men who say that the marriage just isn't working, so who can blame him?

Men are problem-solvers, and they may attempt to get proof of a cheating wife on their own. Your effectiveness in researching your wife's whereabouts and examining her behavior will battle with your hurt, embarrassment, anger, and sadness. Take control in a different way – ask for help. Trust a Michigan private investigator with your private battle and be positioned to move past the infidelity and get control of your life.

Infidelity is common, and these clients' stories will let you know that you're not alone. You'll also understand how helpful a Michigan private investigator is when you're faced with the possibility of infidelity in your relationship.

Your husband has initiated a change in activity or demeanor. He's being weird about money. His routine has suddenly shifted. He's spending more time on the computer or keeping his password-protected phone with him everywhere he goes. He's picking fights or playing nice or exhibiting behavior that goes against the grain of his typical actions. The alteration can be a method of distraction from what's really happening right under your nose. Male infidelity has obvious red flags, but getting confirmation that your suspicions are right is a job best left to a private investigator.

Don't burden yourself with the job of keeping an eye on your spouse's every move. You have a life, obligations, responsibilities – live your day-to-day existence and leave the surveillance to a discreet private investigator.

Girls night out infidelity investigations are common. Your wife or partner may not be out living it up with the girls. In fact, her girls may very well be covering for her while she commits adultery in plain sight, or she may blame alcohol, toxic friends, ridesharing, or a lackluster private life. Suspecting that she is being unfaithful is a punch to the gut, and your ego will feel the pain. Trust in expert investigators to gather the details about what's really going on and whether your wife or girlfriend is where she says she's supposed to be on all those girls' nights out.

There are plenty of excuses a cheating man can give to his wife, girlfriend, or partner. In a Michigan hunting and fishing community, "deer widows" are often the ones who suffer. Your husband or boyfriend may be after the big game, but that could also be in the form of an ongoing affair or a new infidelity conquest every week or every season. Whatever takes the man in your life away from home, family, and his regular activities, if you're suspicious that it's not on the up-and-up, trust in a private investigator to find out for certain.

You can drive yourself crazy worrying about your partner's potential infidelity. In fact, some men and women who are cheating in Michigan will try to make you feel like you're overreacting or seeing things where there is nothing to see. If you suspect an affair, you're not coming unglued – you have a gut feeling and you owe it to yourself to explore whether you're hearing an infidelity cover-up story.
Hire ASG to Conduct a Michigan Cheating Spouse Infidelity Investigation
At ASG Investigations, we have extensive experience in conducting Michigan infidelity investigations and we understand and respect the range of emotions you are feeling. Cheating happens, and it could be happening to you right now. Trust in the discreet, effective, efficient, and confidential adultery private investigators in Michigan to help you get answers so you can make the tough decisions moving forward. With offices in Clinton Township, Birmingham and Novi, we are able to assist clients throughout the Metro Detroit area. If you would like to know more about infidelity investigations, don't hesitate! Call us today!
Common Questions
How will I be given the results of your infidelity investigation?
What if I'm not sure of when my spouse is cheating on me?
How much do you charge to conduct an infidelity investigation?
Why would I need to conduct surveillance on my significant other?
Can I use the evidence you find about my cheating spouse in a Michigan court?
How soon can you begin conducting surveillance on a cheating spouse?
Do you have decoys to make contact with my partner and see if he will try and cheat on me?
Do you provide infidelity surveillance on a weekend getaway where they are potentially meeting the mistress?