Corporate Bug Sweep Services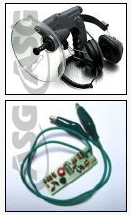 Offered throughout Southeastern Michigan:
Maintaining secure telephone lines for executive offices by regular sweeps for bugs
Securing Data Communications lines including T1
Telephone instrument debugging and sweeping
Bug sweeping rooms for transmitters in executive areas
Microwave Detection
Securing conference rooms from surveillance devices
Providing phone speech scramblers
24-hour phone bug monitors
What to do if you suspect that your home or office is being bugged:
Watch what you say and NEVER discuss the possibility of a bug being in place while you are inside, outside, or near any suspect location or in your automobile.
Never call from any type of cordless phone, cellular telephone, PCS phone, or any other type of wireless device.
Do not use your computer. Bugging a computer is every bit as easy as bugging a room or telephone for audio recording.
Do not trust any type of spread spectrum telephone or fax machine line as they are very easy to monitor.
Have someone who specializes in TSCM discuss your concerns in detail before you make the decision to hire them. Never call the TSCM company from your office or home. Call from a relative or friend's house, payphone or another business.
Keep your composure. Assess what damage could have been done and if you want to leave a bug in place to provide disinformation.
DO NOT try to find the bug or wiretap yourself.
DO NOT contact the telephone company to help.
DO NOT contact the FBI to help.
DO NOT try to get the local police to help.
DO NOT buy spy shop or internet bug detectors.
Contact Sherlock PI today for immediate assistance if you suspect that your home or office is being bugged.