Human Resource Employee Screening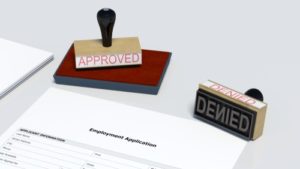 Human Resource Employee Screening is an important step in the hiring process for employers or organizations while considering a possible candidate for future employment. Often times, a Human Resource Department will conduct employee screening checks on the possible candidate's professional and personal lives to gauge if the individual will be a good fit for their company and the position itself.
There are many facets of Human Resource Employee Screening, including: verifying the applicant's information, sifting through criminal, civil and bankruptcy court records to determine if they belong to the individual, and making contact with the individuals' references. Some companies will often require the individual to comply with a drug test or even a physical exam to determine if the individual is physically capable of executing the duties of the position.
ASG Provides In-Depth Employee Screening For Your Human Resources Department, Protecting Your Company. Call Us Today To Build Your Employee Screening Package – (248) 306-8800
Human Resource Employee Screening is meant to be a safeguard for employers to protect against the risk of hiring an individual that is not qualified or does not have a good "track record" with previous employment.  Human Resource Employee Screening is a major part of our business and we are dedicated to producing the best results for our clients.  Our company is aware of all guidelines of the Fair Credit Reporting Act (FCRA) while running our Human Resource Employee Screenings to guard the consumer.
Our Human Resource Employee Screening includes:
Verification of Application Material
We must determine if the individual provided falsified information on their application, and if they did, we need to determine what is true about them. For some positions that require a certain education level we may have to verify a high school or college graduation. We also must verify if the documents such as diplomas and certificates awarded are not falsified.
Court Records
While performing a Human Resource Employee Screening on the individual we will conduct court record searches to locate any criminal, civil and possible probate records available.
Provided Professional & Personal References
We attempt to make contact with the provided individuals references to determine if the candidate is a well-rounded person and also, if they have shown strong work ethic with their past employers. We also try to determine if there have been any conflicts with previous employees or employers.
Drug Screen- If Applicable
Physical Exams- If Applicable
Ban the Box Rule
Human Resource Employee Screening must be performed in accordance to the state and city laws, and these laws and regulations can widely vary. Recently, many cities, counties and states have seen a shift to enact a law called "Ban the Box Rule". This recently ratified law wants to ban employers from discriminating against potential candidates' previous criminal history.
When we talk about the "box", we mean the area on the application that inquires if the individuals have been convicted of a crime before. This new law mandates that employers eliminate this "box" and all like questions. While some ban-the-box laws limit employers from requesting about and individual's criminal history until after they have had their first interview or until a conditional offer of employment is made.
The ban-the-box rule has changed the lives of many individuals that have prior convictions on their records and now because of this newly passed law they are able to apply for a job without having to worry about the employer passing up on their application before they even have an interview.
Fair Credit Reporting Act (FCRA)
Our clients should always feel at ease knowing that our company is completely in compliance with the Fair Credit Reporting Act (FCRA) when we conduct Human Resource Employee Screenings. The Employer and the background screening company are both responsible for being FCRA compliant.  Employers have to disclose that they are going to conduct a background check and get written authorization. The Fair Credit Reporting Act is in place to promote correctness, equality, and confidentiality of information.
Under the FCRA, the individual has to be informed if the information in the report is being used against them, the individual also has the right to know what is in their file, the individual has the right to ask for their credit score and also the right to argue inadequate or erroneous information.
Time Limitations on Criminal Convictions
Each state has different time restriction regulations on their criminal convictions. What does that mean for a company running Human Resource Employee Screenings?  That means depending on the state we may only be able to run records for a certain amount of years back. As a third-party Human Resource Employee Screening company, we must be familiar with each state's regulation on criminal conviction reporting.
For example, Florida and many other states do not have any restrictions beyond their FCRA guidelines; however, in Hawaii convictions can only be reported 10 years back based on the disposition date.
Why use a Third-Party Company?
As a third-party company we have real investigators that are dedicated to providing superior costumer service. There are many regulations and laws, such as, the Fair Credit Reporting Act, time constrictions with criminal convictions and the new ban-the-box rule.
Many companies will use a $19.99 search on the internet, but this will NOT cut it while trying to perform a legitimate Human Resource Employee Screening. We are licensed private investigators that carefully take the time to conduct all the necessary searches through all of our databases to ensure that our clients receive all of the information there is on the individual. We also want to ensure the information that we are providing to our client is accurate as well. We can tailor the type of screening you would like, depending on if you are looking to have a screening done on an entry level individual or the CEO or President of a company. We can add more searches or also only perform the searches that you would like.  We have a diverse team of investigators that will know exactly which package would work best for your company's needs.
ASG services Metro Detroit and beyond. Our offices are located in Birmingham, Clinton Township and Novi, however, we can perform human resource employee screening throughout Michigan, as well as throughout the country. Give us a call today to discuss your employee screening options!