Far too often have we heard of juror bias in the court room. It's important to conduct juror profile investigations on the potential jurors who would be overseeing a case and deciding on the outcome. You never know what kind of personal information can be uncovered during the investigation that could be beneficial in the jury selection. The goal here is to learn more about the individual's background and what their affiliations are to better understand them.
Our juror profile investigations contain different elements. Below are the four most imperative areas we focus on: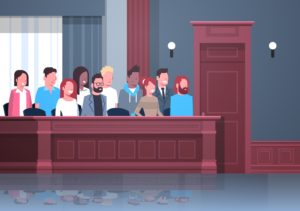 Employment
Social Media Investigation
Public & Open Source Records
General Web Search
Learning about an individual's employment says more about them than we realize. Their job, title, etc gives us insight on who they are as an individual and what it is, they deal with on a daily basis.
Social Media Investigations take precedent in juror profile investigations. Viewing an individuals' Facebook page and seeing what they post/share speaks volumes about their personality. We have seen individuals post publicly about their political affiliations many times before. If a case is motor vehicle related and through their social media, we learn that a potential juror lost a loved one due to a motor vehicle accident, the legal team would not want to include this individual as a juror.
Records are imperative when deciding who to put on a jury. We understand to look at the different states and counties in which an individual has resided in to determine if they have any criminal and civil records. The legal team would want to know this information when choosing who to select for jury duty.
Lastly, General Web Research pertains to any blogs or threads an individual may be a part of. Maybe they speak on a public forum regarding certain controversial topics. If so, the legal team would want to know this information and what is being said. We utilize certain keywords to help identify any bias the juror may have towards a topic.
We understand the importance of conducting juror profile investigations. Therefore, we do our best to provide you with the most accurate information to help you make the best selection in regard to your case. Don't overlook this process and think of it as unnecessary! Call us today to further discuss your investigation.