Online dating websites and apps are flooding the market and millions of users log into their accounts daily. Online dating has become mainstream, but as we know, with this comes potential danger lurking right around the corner. As Michigan Private Investigators, we take plenty of cases regarding online dating scams. Here is what you need to know!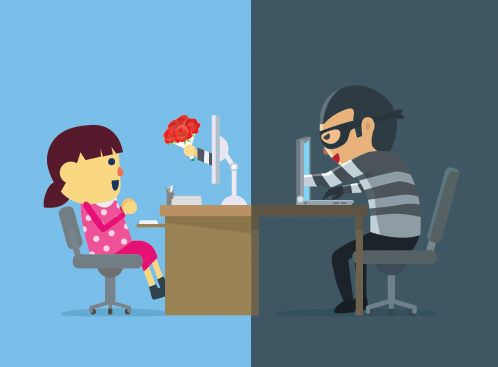 Not Everyone Is Who They Claim To Be
When someone pretends to be someone they are not, like creating a fake profile, this online dating scam is commonly referred to as "catfishing". There are several reasons for catfishing whether to appear to be a better version of their true self, or to cause harm to someone else or most commonly… for financial gain.
Another online dating scam issue is exactly the opposite. In this online dating scam, the person on the other end appears total normal, not a fake, perfect person or model, and they are even located within 5 miles you! They get you and are open and honest with you. They are a real connection who seems like the perfect match. Except, oh no, you didn't think to look deeper than the surface. They are actually a criminal and you unfortunately are just part of an online dating scam.
The Federal Trade Commission reports that online dating scams accounted for over $200 million in consumer loses in 2019 alone!
So aside from airing on the side of caution, what can you do to protect yourself from falling victim to an online dating scam?
Stranger Danger: Don't give out your personal information to strangers.Yes, we know this sounds obvious, but this is the case in many scenarios. And yes, even if you think You've fallen in love with Mr. or Miss Right, stop in your tracks. Sob stories, emergencies or claims of declined credit cards on the way to meet you are not a reason to hand over your information or wire money… no matter how nice of a person you are.
Are You a Model? Chances are…no. Beware of profiles of handsome men and women who appear to only have model-like photos. Chances are, these were swiped from a real model's profile elsewhere on the web. The old adage, "If it seems too good to be true, it usually is" holds a lot of merit here.
Slow Down! When it comes to online dating scams, scammers tend to rush the relationship. Often, they do this by "falling in love" with their victim alarmingly fast, but it's not actually love they are after. The sooner they can gain the trust of their victim, the sooner they can carry out their scam.
Be Nosey. Whether you decide to tackle it on your own or you hire professionals to assist you, don't be afraid to do some digging. This is your life and online dating scams have potentially devastating outcomes.
ASG Investigations realizes the severity of online dating scams! Whether you need assistance confirming the identity of a potential beau or already have confirmed and want to dig deeper into their history with a background check, our professional team of Michigan private investigators are here to help you. ASG serves a wide range of locations, from Grosse Pointe, to Dearborn, Novi to Sterling Heights, Clinton Township to Birmingham and have even performed investigations in Flint, Ann Arbor and Grand Rapids. Give us a call today to discuss your specific case with complete confidentiality.
Not ready to make the call just yet? Read more about online dating investigations here.